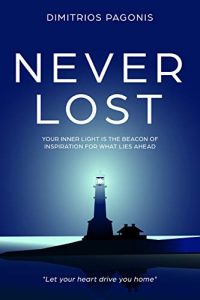 "About Never Lost:
This is a bold and unique approach to ever-present queries about creation, existence, life, and the future. Centuries ago, ancient Greek (and other) philosophers tried to make sense of a very turbulent world by unravelling divine mysteries and the laws that governed them.
In current times, important discoveries are coming to light. Humanity's way of thinking is not only the key to life's mysteries, but also the driving force behind them. This realization is the catalyst for a shift in the paradigm – the recognition that creation and existence are fundamentally intertwined. Each one encompasses and produces the other.
By understanding and changing your mindset, and by eliminating limiting beliefs, you can remove the restrictions on your mind that are holding you back. You're free to take huge, significant actions towards manifesting your wildest dreams and your truest desires – abundance in love, money, good health, success, and happiness.
The time has come to take charge of your life. Today your life takes on a new path. A path of purpose, order, and wisdom in unity. No discrimination, no hard choices, no pain, and no bad feelings.
Consider this book a powerful tool. May it take you on an enlightening, fulfilling journey. May you never be lost again.
Targeted Age Group: 16 – 85
Written by: Dimitrios Pagonis
Buy the ebook:
Buy the Book On Amazon
Author Bio:
Dimitrios Pagonis is the author of "Never Lost". Always an intriguing personality, at an early age Dimitrios gained the appreciation of his teachers and classmates for his creative writing. By way of this appreciation of his creativity, he became class president. His writing talent did not become a career, though. Early in life, Dimitrios was granted the privilege to study abroad and meet many different people of different origins. It was through this experience that his open spirit grew and developed.
Life in the real world, of course, is quite rooted in economic needs, and Dimitrios' writing was placed on the back burner. Fortunately, he met significant people at the right time, and they urged him to revisit his love of writing. Only then did Dimitrios recognize that writing was more than a hobby or pastime. He discovered that writing is a higher purpose and an innate need. He aims to help other people realize their inner potential. Dimitrios is happily married with two sons, and his family has been an endless source of love and support.
This site contains affiliate links to products. We may receive a commission for purchases made through these links.