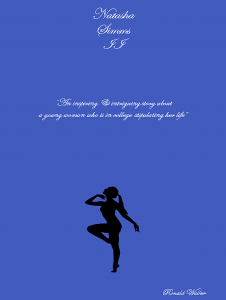 "About Natasha Simms II "An Inspiring & Intriguing Story About A Young Woman Who Is In College Stipulating Her Life":
In the first book of this comedy, Natasha is a part of the gymnastics team of the college that she attends. She along with her peers are in training for an upcoming tournament. The coach catches her joking around. She enforces the no joking around policy during crucial times of training. Surprisingly, Natasha astonishes the team with their policy to inspire and encourage the team. While walking and attempting to ride the public's transportation to get home, she meets five charming men. They dazzle her with their singing and good posture. As she continues on her way, she meets a friend who goes to the same college that she attends. Later, she is confronted by three assailants. With her charm and wit, she luckily subdues them. Comforted by friends and law enforcement officers, they leave an atmosphere of joy and happiness.
In this second book of this comedy, the family of Natasha enjoys a visit from their father's older brother. They enjoy a gourmet dinner cooked by her mother and younger sister. In the process, the news of her confrontation reaches home. The acknowledgments of the encounter bring the family closer together to further perceive love, joy, unity, and opportunity.
Targeted Age Group: General Reading
Written by: Ronald Walker
Buy the ebook:
Buy the Book On Amazon
Buy the Book On Barnes & Noble/Nook
Buy the Book On Apple Books
Buy the Book On Kobo
Buy the Print Book:
Buy the Book On
Author Bio:
Hi, my name Ronald. As an author, I look at the fundamental acknowledgments that could evolve from inspiring and easy reading. I know, if done rewardingly, it could an uplift into the many realms of love, joy, friendship, growth, and opportunity. I am an author who writes books of General Reading, Comedy, Romance, Poetry & Short Stories, Young Adult, Children, Chick-Lit, and something that I am introducing as Complimentary Literature. You could find the majority of my books in the printed and eBook formats at practically every major distribution outlet. in the printed format, you could find my books for various prices. In the eBook format, you find them at $1.99. You could find a more involved reading of my publications at the promotional outlet https://www.inkitt.com/ronald937, and my publication outlet at http://www.lulu.com/spotlight/Ron234. There are many publications you can look at. I hope that you will stop by and give a review.
Follow the author on social media:
Learn more about the writer. Visit the Author's Website
This site contains affiliate links to products. We may receive a commission for purchases made through these links.