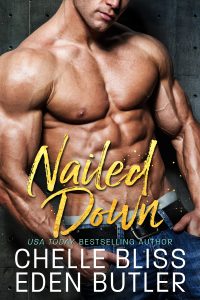 About Nailed Down:
Kitty Carlyle isn't just some woman. Beautiful? Yep. Seductive? Damn straight. She's also my best friend and my co-worker. But, hell, I'm a guy with a pulse. Every once in a while, I take a look and think filthy things about her that maybe I shouldn't.
But when her cousin dies and leaves her with a long as hell and sexy bucket list, Kitty turns to me for a helping hand. What can I say? I'm a sucker for a woman in need. Besides, I'm damn sure not about to let another man steal away my girl, occupy her bed, or fill my shoes.
But as the stakes get higher and the items become hotter, I'll have to face the toughest challenge of all: admitting I want more than Kitty's friendship. I want to make her mine.
Buy the ebook:
Buy the Book On Amazon

Author Bio:
Chelle Bliss is the USA Today bestselling author of the Men of Inked and ALFA P.I. series. She hails from the Midwest, but currently lives near the beach even though she hates sand. She's a full-time writer, time-waster extraordinaire, social media addict, coffee fiend, and ex high school history teacher. She loves spending time with her two cats, alpha boyfriend, and chatting with readers.
Follow the author on social media:
Learn more about the writer. Visit the Author's Website
Facebook Fan Page
Twitter