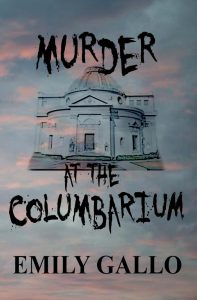 "About Murder at the Columbarium:
Jed's quiet life as caretaker of the San Francisco Columbarium is turned upside down when he comes upon a dead woman's body and a crying baby just inside the gate. His search for answers thrusts him into a world of corruption, bigotry and drug trafficking and he becomes one of the principal suspects.
Targeted Age Group: 18+
Written by: Emily Gallo
Buy the ebook:
Buy the Book On Amazon

Buy the Print Book:
Buy the Book On Amazon
Buy the Book On Barnes & Noble/Nook
Buy the Book On
Author Bio:
Emily Kaufman was the girl growing up in Manhattan in the fifties and sixties. In the sixties and seventies, I attended Clark University and lived in San Francisco, Santa Barbara, Los Angeles and Seattle doing the hippie/peace/love/protest thing.
In the eighties and nineties, Emily Saur lived in Northampton, MA and Davis, CA and was the more conventional wife, mother of two, and elementary school teacher.
In 2006, I retired from teaching and became Emily Gallo when I married David, a professor of economics, and moved to Chico, CA. I started writing screenplays and television and moved into novels. David, Gracie (our Schillerhound), Savali (our cat) and I now divide our time between two and a half acres of gardens, orchards in Chico and a 750 square foot condo on the beach in Carpinteria, CA.
Follow the author on social media:
Learn more about the writer. Visit the Author's Website
Facebook Fan Page
Twitter
Instagram
This site contains affiliate links to products. We may receive a commission for purchases made through these links.