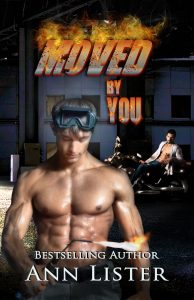 "About Moved By You:
Vance: He's angry and bitter over the direction his father has chosen for him in the family business – and in his life. He may have been born into money, but Vance always saw his journey as something less grand. He's desperate to follow his real passion which is metal sculpture, created with nothing more than scraps he pulls out of junk piles, a blow torch, and a sweat. But he lacks a critical element to make that happen: the spine to stand up to the man who moves him around like a pawn on a chessboard. He needs something – or someone to give him the motivational push to take back control of his life.
Kyle: He's drifted through life with a massive chip on his shoulder. He doesn't mind being a city bike messenger, but he knows his body won't allow him to do that forever, and riding for a living isn't his calling in life. But with no clear plan B in place, he needs to keep his day job – for now. The other problem? He loathes the privileged people he delivers to, despises what they stand for, and how they look down at him as if he was worthless. The only thing more prominent than the grudge he holds against them is his pride. Everything changes when a company owner's son hits him with his car, which puts both rider and driver on entirely different paths in their lives.
But is this a path they can both take together, or will egos and societal privilege create too many obstacles to overcome?
Moved By You is a 67,000 word MM novel with an enemies to lovers theme, and an HEA.
Targeted Age Group: 18+
Written by: Ann Lister
Illustrated by: SL Perrine
Buy the ebook:
Buy the Book On Amazon

Author Bio:
Ann Lister is a native New Englander currently living in Florida with her husband. She has pulled details from her years living in the New England area and uses many local settings and landmarks in her novels.
After graduating art school, marrying, and raising two daughters, she established her own video production company. Her nearly two decades working in video production included work within the music industry and won her a coveted Telly Award. Her 'behind-the-scenes' exposure to the music world and her love of rock music is the inspiration for her erotic rock star romances.
The Rock Gods series gave her Bestselling Author status on Amazon. Beyond The Music, Book 7 in the series, reached #1 in Gay Erotica in the Pre-Order and held that spot for several weeks. The last book in the series launches the spin-off series, Guarding The Gods, which is releasing in early summer 2016.
Fall For Me, Book One in the series was a Finalist in the 2013 Rainbow Award. Each book in this series brings her two favorite elements together: musicians and the love between two men. These stories focus on what it truly means to love; love unconditionally, love without restrictions or labels, love without fear or judgment – to just simply love.
Follow the author on social media:
Learn more about the writer. Visit the Author's Website
Facebook Fan Page
Twitter
Instagram
This site contains affiliate links to products. We may receive a commission for purchases made through these links.