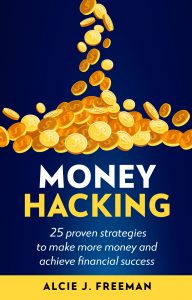 "About Money Hacking: 25 proven strategies to make more money and achieve financial success:
Hack the game of money without an MBA and even if you are damn broken.
Hack it NOW in only 25 simple steps!
What if a few money principles could dramatically increase your financial success and set you free? What if you could get out of debt and take your family to the vacation or pay for that college for your children?
Best-selling author, Alcie J. Freeman, presents the remarkable findings of his study and diect experience on financial success. Based on interviews and observation of hundreds of CEOs, hedge funds administrators, and entrepreneurs, Freeman answers the question: what are the secrets of money and to extreme wealth?
In this book you will learn:
why richer are getting richer and richer
how to get out of your debt trap
how to make money work for you
how to conquer financial freedom
what are the small things you can do that make a big difference
the one thing you should never do with your hard-earned cash
And much, much more
Tired of living from paycheck to paycheck?
Do you want to hack the money game?
Rich people have hacked the game of money and you can do it too. You just need to be shown how. It has transformed the lives of Presidents and CEOs, educators, parents, and students — in short, thousands of people of all ages and occupations have benefited from Alcie's Money Hacking book. And, it can transform you as well.
If you are sick and tired of making your boss rich, working hard for little pay, living paycheck to paycheck, or just want to dramatically upgrade your current lifestyle, this is the book that can change everything.
Whether you are a college graduate, a high school dropout, a small business owner, or an employee, this book will teach you how to build a better life for you and your family.
Imagine how your life would change if you knew that you were on the proven path to wealth.
Ready to finally start building wealth?
Your road map is here.
Follow the simple 25 steps listed in this book and you will achieve financial independence much sooner than you ever thought possible.
Targeted Age Group: 30
Written by: Alcie J. Freeman
Buy the ebook:
Buy the Book On Amazon
Author Bio:
Alcie J. Freeman is an international best selling author devoted to helping people to take control of their money and create the life they want. His journey would take him on a global quest, traveling the world to meet and interview ordinary and extraordinary people who had "cracked" the Money Code.
He strongly believes that financial freedom shall be achievable by everybody.
Alcie lives between Swiss Alps and French Riviera, where he enjoys skiing, sailing and yoga.
Follow the author on social media:
Learn more about the writer. Visit the Author's Website
This site contains affiliate links to products. We may receive a commission for purchases made through these links.