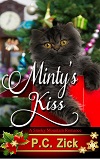 "About Minty's Kiss:
A childhood crush and a lost kitten combine for one sweet Christmas romance in the Smoky Mountains.
When Molly retreats to North Carolina with Gracie, her ten-year-old daughter, she's surprised to find her childhood crush, Nick, still living in the area. Recovering from a divorce, Molly only wants to carve out a peaceful and happy existence for Gracie in a place where Molly always felt safe as a child.
The morning after her return, Nick, more handsome than she remembered, shows up at her cabin where she spent her childhood vacations. The flush of first love surprises Molly, and Nick is shocked to discover the grown-up Molly.
When Harold, Molly's old cat, runs out the cabin door and into the woods, Nick discovers the cat lying dead at the base of the tree where Molly always went to read as a child. After burying him under the tree, a broken-hearted Gracie and Molly return to the cabin and discover a gray furry kitty under the porch. Gracie names him Minty.
Gracie refuses to believe her father won't come back for them, so she resents Nick spending time with her mother and tries her best to pull them apart. One small kitty named Minty helps Gracie accept the love developing between Nick and Molly in time for her first Christmas in the mountains of North Carolina, but only after learning that life doesn't always turn out how we want.
Targeted Age Group: Adult
Written by: P.C. Zick
Buy the ebook:
Buy the Book On Amazon

Buy the Print Book:
Buy the Book On Amazon
Author Bio:
Bestselling author P.C. Zick describes herself as a storyteller no matter what she writes. And she writes in a variety of genres, including romance, contemporary fiction, and creative nonfiction. She's won various awards for her essays, columns, editorials, articles, and fiction.
The three novels in her Florida Fiction Series contain stories of Florida and its people and environment, which she credits as giving her a rich base for her storytelling. She says her, "Florida's quirky and abundant wildlife–both human and animal–supply my fiction with tales almost too weird to be believable."
P.C. writes both sweet and steamy romances. The sweet contemporary romances in her Smoky Mountain Romances, are set in southwest North Carolina. Another sweet romance series, Rivals in Love, contains two books with four more in the works. All six follow the Crandall family of Chicago as the siblings find love despite their focus on successful careers.
Her steamy romances go from Florida to Long Island. The Behind the Love series, set in a small fictional town in Florida, feature a community of people who form bonds as they learn to overcome the challenges of their youth. Her Montauk Romances are set in and around Long Island and feature simple, yet sophisticated beach houses designed with romance in mind. The two books in this set are filled with steamy scenes as love grows and thrives.
No matter the genre of novel, they all contain elements of romance with strong female characters, handsome heroes, and descriptive settings. She believes in living lightly upon this earth with love, laughter, and passion, and through her fiction, she imparts this philosophy in an entertaining manner with an obvious love for her characters, plot, and themes.
Follow the author on social media:
Learn more about the writer. Visit the Author's Website
Facebook Fan Page
Twitter
This site contains affiliate links to products. We may receive a commission for purchases made through these links.