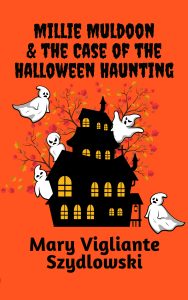 About Millie Muldoon & the Case of the Halloween Haunting:
It's nearly Halloween and Great Aunt Priscilla Palermo has a problem. She and her two next-door neighbors have developed a bad case of ghosts! Not the paper, cloth, wood, or plastic kind. The real thing! Spirits of the dead!! Spooks that float through the air and scare you to death when they go Boo! They appear in their yards every night after midnight. The ladies may lock their doors and windows. But that doesn't stop the ghosts. They manage to sneak into their houses anyway. The women can hear them in their basements, walls, and attics. Scratching and shuffling. Creaking and clanking. The elderly ladies are scared to death. Afraid to stay alone in their own homes. They try calling the police, but the cops don't believe them. They insist they're seeing things. But are they? Millie Muldoon doesn't think so. Whatever is happening at her great aunt's house, it's Millie's guess it's not supernatural. She's convinced the nightly haunting has something to do with tales of underground tunnels and buried Civil War gold. Aided by a team of pint-sized assistants, Millie is determined to find enough evidence to crack the case and send the ghosts packing.
Buy the ebook:
Buy the Book On Amazon
Buy the Book On Barnes & Noble/Nook
Buy the Book On Smashwords
Buy the Book On iBooks/iTunes
Buy the Book On Kobo

Author Bio:
Mary Vigliante Szydlowski writes across several genres using this and other pseudonyms. Her published Science Fiction works include novels: The Ark, The Colony, The Land, Source of Evil, and novella The Hand of My Enemy. She's also the author of dark fantasies: Worship the Night and Dark Realm, and mainstream novel Silent Song. She's published 8 children's books: Millie Muldoon & the Case of the Halloween Haunting, Ghoul School, Millie Muldoon & the Christmas Mystery, Millie Muldoon & the Case of the Thanksgiving Turkey-napper, A Puddle for Poo, Kia's Manatee, The Duck in the Hole, and I Can't Talk, I've Got Farbles In My Mouth.
Using the pen name Mia Frances, she is the author of the romantic murder mystery thriller series In His Keeping: Taken, Banished, and Claimed.
Her short stories, articles, children's stories, essays, and poems have appeared in anthologies, books, magazines, newspapers, and on the web.
She is a member of the Authors Guild, RWA (Romance Writers of America), SCBWI (Society of Children's Book Writers and Illustrators), and SFWA (Science Fiction Fantasy Writers of America).
Follow the author on social media:
Learn more about the writer. Visit the Author's Website
Facebook Fan Page
Twitter
This site contains affiliate links to products. We may receive a commission for purchases made through these links.