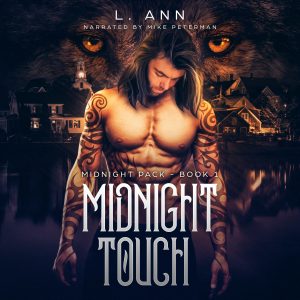 "About Midnight Touch:
Trouble always finds Shaun Jacobs….
So, really, the sizzling hot alpha male shouldn't have been surprised when a move to a new town and a fresh start doesn't go according to plan – especially when Shaun's wolf lays claim to the beauty he unexpectedly finds on his property.
Passion soars, but Cassie comes with her own brand of trouble in the form of an ex who can't take no for an answer.
To make matters worse, there's a hunter on Shaun's tail. One who will stop at nothing to take down the Midnight pack once and for all.
The stakes are high but Shaun won't be going down without a fight.
Targeted Age Group: 18+
Written by: L Ann
Buy the ebook:
Buy the Book On Amazon
Buy the Audio Book:
Buy the Book On Amazon
Buy the Print Book:
Buy the Book On Amazon
Author Bio:
L. Ann writes about alpha males and feisty females. Her books are full of passion and twisty plots to keep you on the edge of your seat.
Follow the author on social media:
Learn more about the writer. Visit the Author's Website
Facebook Fan Page
Twitter
This site contains affiliate links to products. We may receive a commission for purchases made through these links.