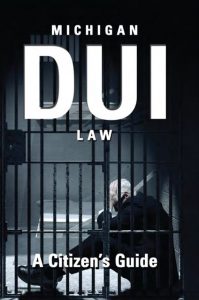 "About Michigan DUI Law: A Citizen's Guide:
A conviction for driving under the influence can be devastating. The consequences—fines, suspended license, insurance premium hikes, employment hassles, even jail time—can impact you for years into the future. In Michigan alone this year, 36,000 drivers will be arrested for DUI.
In his new book, Michigan DUI Law: A Citizen's Guide, defense attorney Patrick T. Barone explains the law and offers drivers advice on how to avoid DUI arrest or conviction. Widely considered to be one of the nation's best DUI defense lawyers, Barone writes in simple language, offering dozens of tips you can use to avoid detection and arrest. If you have already been arrested, Michigan DUI Law will help guide you through Michigan's legal labyrinth, and offers hundreds of proven strategies you can use to avoid a DUI conviction. Barone provides easy-to-follow tips for finding a top DUI defense attorney and advice to help assure you of the best chance of winning in court. Years from now make sure you don't regret not reading Michigan DUI Law: A Citizen's Guide – order your copy today!
Targeted Age Group: 21-40
Written by: Patrick Barone
Buy the ebook:
Buy the Book On Amazon
Buy the Book On Barnes & Noble/Nook
Author Bio:
Patrick Barone is a Michigan trial lawyer and author. He is also a Board Certified practitioner of psychodrama, sociometry and group psychotherapy, and is the only Michigan lawyer holding this distinction. This certification is significant because many of the nation's top trial lawyers attribute their amazing courtroom success to psychodrama training, which is also the foundational method of the Gerry Spence Trial Lawyer's College.
Follow the author on social media:
Learn more about the writer. Visit the Author's Website
Facebook Fan Page
Twitter
This site contains affiliate links to products. We may receive a commission for purchases made through these links.