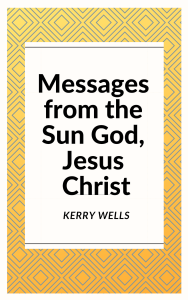 "About Messages from the Sun God, Jesus Christ:
I interacted with Jesus as the consciousness of the Sun. I wrote this book to share my interactions with God and Christ and my experiences with heaven and hell.
Targeted Age Group: none
Written by: Kerry Wells
Buy the ebook:
Buy the Book On Amazon
Buy the Book On Barnes & Noble/Nook
Buy the Book On Smashwords
Buy the Book On Kobo
Author Bio:
I am just an ordinary person who had some out of the ordinary experiences, and I wrote this book to share them with others.
Follow the author on social media:
Learn more about the writer. Visit the Author's Website
Facebook Fan Page
Twitter
This site contains affiliate links to products. We may receive a commission for purchases made through these links.