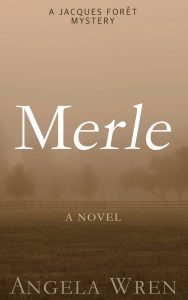 About Merle:
Jacques Forêt, a former gendarme turned investigator, delves into the murky world of commercial sabotage – a place where people lie and misrepresent, and where information is traded and used as a threat.
The Vaux organisation is losing contracts and money, and Jacques is asked to undertake an internal investigation. As he works through the complexity of all the evidence, he finds more than he bargained for, and his own life is threatened.
When a body of a woman is found, it appears to be suicide. But as the investigation takes another turn, Jacques suspects there is more to it.
Who is behind it all…and why? Will Jacques find the answer before another person ends up dead?
Merle – the second in a new crime series featuring investigator, Jacques Forêt.
Buy the ebook:
Buy the Book On Amazon
Buy the Book On Barnes & Noble/Nook

Author Bio:
Having followed a career in Project and Business Change Management, I now work as an Actor and Director at a local theatre. I've been writing, in a serious way, since 2010. I particularly enjoy the challenge of plotting and planning different genres of work. My short stories vary between contemporary romance, memoir, mystery and historical. I also write comic flash-fiction and have drafted two one-act plays that have been recorded for local radio. The majority of my stories are set in France where I like to spend as much time as possible each year.
Follow the author on social media:
Learn more about the writer. Visit the Author's Website
Facebook Fan Page
Twitter
This site contains affiliate links to products. We may receive a commission for purchases made through these links.