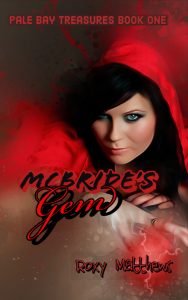 "About McBride's Gem:
Trouble is brewing in a small Northern town. The center of the storm, three mystical Gems protected by Gods hidden in plain sight. Teaming up with mankind may be the only salvation for Gods and mankind alike.
Randi Ronin thought she was done dealing with selfish men. Until she ended up with a gun barrel pointed at her head and a stranger, albeit a cute one, unwilling to let her out of his sight. When she's yanked from bed in the middle of the night, held captive for a gemstone, she must keep her wits to con a con or succumb to a scheme fueled on greed.
Targeted Age Group: 18
Written by: Roxy Matthews
Buy the ebook:
Buy the Book On Amazon
Buy the Book On Barnes & Noble/Nook
Buy the Book On Smashwords
Buy the Book On Kobo
Author Bio:
Roxy Matthews, a member of the Silverleaf Writers Guild, is a self published author of nine works to date, including full length novels, novellas, and short story collections.
Her work has been featured in Suspense Magazine and several anthologies, including 'The Way Through' by Polar Expressions Publishing and The Charmed Writers Flash Fiction Anthology 2019.
In 2018 Roxy Matthews was named one of Canada's best writers of the year by Polar Expressions Publishing giving her the boost she strived for.
Throughout the years Roxy Matthews has never swayed from her dream of publication, nor allowed the hundreds of denials dissuade her. Instead she continues to push forward with hard work and determination while putting her best written voice forward for her beloved readers to enjoy.
Follow the author on social media:
Learn more about the writer. Visit the Author's Website
Facebook Fan Page
Twitter
This site contains affiliate links to products. We may receive a commission for purchases made through these links.