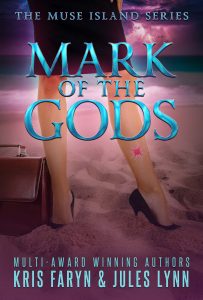 "About Mark of the Gods:
A serial killer with a key to her past.
An island with magical secrets.
A destiny she cannot deny.
Forensic psychologist Piper Prince excels at counseling the criminally insane, but professional success doesn't translate to helping her little sister survive cancer. So when a patient who claims to serve the gods delivers an iron-clad clue to finding a cure, she can't help but follow the trail to Muse Island.
Once on the island, her hotel room is ransacked, the local sheriff shrugs off the invasion, and her one lead is murdered. Before the woman dies, she bestows a strange gift to Piper—one that makes her long-buried, childhood hallucinations return. Or are the creatures she sees more than hallucinations?
Now Piper must deal with her awakening to a mythical world, monstrous villains who want to claim both her and the gift, and an all-too-handsome resort owner who has more secrets than answers. But who…or what…can she trust?
Targeted Age Group: Adult
Written by: Kris Faryn
Buy the ebook:
Buy the Book On Amazon
Buy the Book On Barnes & Noble/Nook
Buy the Book On Apple Books
Buy the Book On Kobo
Author Bio:
About Kris Faryn
Kris Faryn is a multi-award-winning author of Young Adult Fantasy books and Adult Suspense. She also co-authors a suspenseful supernatural detective series. Kris is captivated by the study of creativity and word-play, as well as the origins of stories, many of which find their roots in mythology. Kris strongly believes in turning dreams into realistic goals and that everyone has something special and unique to offer the world.
About Jules Lynn
Jules Lynn is a multi-award-winning author who writes paranormal stories on her own and supernatural mysteries with co-author Kris Faryn. Among close friends, Jules is known for her surplus sarcasm, her growing collection of boots, and her willingness to grab a karaoke microphone at the slightest nudge. She lives in Texas with her husband and a very loud cat.
Follow the author on social media:
Learn more about the writer. Visit the Author's Website
Facebook Fan Page
This site contains affiliate links to products. We may receive a commission for purchases made through these links.