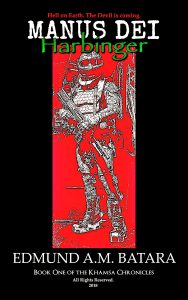 About MANUS DEI: Harbinger – Book One of the Khamsa Chronicles:
Hell is coming. As prophesied. And this time, the ruler of the Infernal Abyss does not intend to lose – revelations be damned. But humanity is not ready. It falls upon a few mortals and angels to delay the coming of the blackened Morning Star. A retrograde action against the forces of Hell. With high tech weaponry if need be.
One of them is Keith A. North, SEAL E-6, left for dead in the sandbox. Recruited by the secretive Khamsa, an organization almost as old as recorded history, he learns how to fight against nightmares made real. Limited by rules as ancient as the struggle against the armies of the Abyss.
Buy the ebook:
Buy the Book On Amazon

Author Bio:
Active Member, Science Fiction and Fantasy Authors of America (SFWA).
A Goodreads Author. Exclusively on Amazon.
Writer of the ACCIDENTAL ARCHMAGE Series, the ARCANUM ASTRAY Series, the MANUS DEI Series, and Boner the Barbarian: A LitRPG Satire
Follow the author on social media:
Learn more about the writer. Visit the Author's Website
Facebook Fan Page