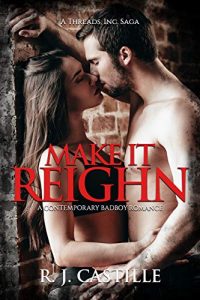 "About Make it Reighn:
Jessica Goldstein has worked hard to get where she is. In college, she focused herself, resolved to graduate ahead of schedule and before she knew it, she was offered the opportunity of a lifetime: An internship at the place she has fantasized about working for since she was a young girl, Threads. It is one of the most popular fashion magazines in the United States. Jessica is career-driven and works hard to make her place there. All is right with the world until she faces a man who interjects a sense of chaos into an otherwise organized and successful life.
Reighn Abrams had a rough childhood but ever since he became one of the most sought after, male supermodels, he has had it all. Money, designer clothes, access to anywhere he wants to go, and of course, women. Reighn lives his life in pursuit of his own pleasure, whatever that may be, and nothing else. When he meets Jessica Goldstein, she rejects him outright, which drives him completely insane. Jessica landed herself in Reighn's crosshairs and he seeks out his new conquest with a persistence so intense that he is sure that she will give in eventually.
Will Reighn be able to prove to Jessica that he is more than just designer clothes and money? Will Jessica be able to let go of her fears and give Reighn a chance?
Targeted Age Group: New Adult
Written by: R.J Castille
Buy the ebook:
Buy the Book On Amazon

Author Bio:
R.J. Castille was born in 1976 and lives in Southern California. She has been writing short stories and poetry since grade school and never ceased to feed her desire to write. Encouraged by her Mother, R.J. Castille set out to complete her first published, full-length, Erotic Romance novel, Goddess. Her tenacious nature drove her forward as her first manuscript came to fruition. Her goal is to provide true to life entertainment.