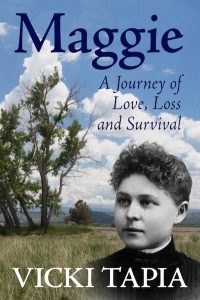 About Maggie: A Journey of Love, Loss and Survival:
Set in a time when women had few rights, this compelling narrative chronicles one woman's tenacious journey from abuse to independence. This is a #MeToo story that has waited over a century to be told.
Mt. Clemens, Michigan 1887. Seventeen and headstrong, with marriage on her mind, Maggie is sure she has found her one true love. But when she collides head-on with betrayal, overwhelming loss and ill-treatment, her life unravels.
Maggie rises above adversity through rare determination and grit, becoming an independent woman ahead of her time. Yet before she can truly find peace, one heartbreaking, life-altering decision remains.
Inspired by her great-grandmother's life, the author explores intergenerational relationships between parents and children, husbands and wives, and sisters. She weaves a timeless story of survival and courage set against the backdrop of late 19th century Michigan and the prairies of eastern Montana at the turn of the twentieth century.
Buy the ebook:
Buy the Book On Amazon

Author Bio:
A native Montanan, Vicki Tapia has lived in south central Montana for most of her life. International speaker and advocate for breastfeeding and most recently, dementia awareness, she is the author of two books and numerous articles.
Her first book, Somebody Stole My Iron: A Family Memoir of Dementia, began as a diary to help her cope with caregiving, after both parents were diagnosed with dementia. This memoir was a finalist in the 2015 High Plains Book Awards.
Vicki's second book, Maggie: A Journey of Love, Loss and Survival, is a tribute to the intrepid life of her great-grandmother, written in remembrance and recognition of a time when women had few rights.
When not busy writing, you're apt to find her out walking her mini-Schnauzer or off exploring some distant part of the world with her husband, often on their tandem bicycle.
Five Fast Facts
Vicki has:
Traveled to 5 different continents
Journaled since she was 16
Played piano, beginning age 6
Worked as a Lactation Consultant for 30 years
8 grandchildren
Follow the author on social media:
Learn more about the writer. Visit the Author's Website
Facebook Fan Page
Twitter
Instagram
This site contains affiliate links to products. We may receive a commission for purchases made through these links.