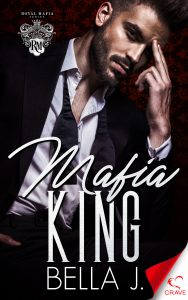 "About Mafia King:
Born and bred to rule, I embraced my place in our family with pride.
I was the leader. The boss. The king.
Fueled by my family's need for revenge, I was on a bloody path toward vengeance. That's when I found her—a filthy, weak, broken girl.
The mystery that surrounded her seduced me. Her secrets pulled me down to the deepest pits of hell, the demons of her past threatening to burn the empire I swore to protect.
Now the devil himself is knocking at my door, wanting his beautiful, broken girl back.
But she's mine now. I claimed her. And anyone who dares to take her away from me will be completely, utterly, royally…
Fucked.
Targeted Age Group: 25
Written by: Bella J
Buy the ebook:
Buy the Book On Amazon

Buy the Print Book:
Buy the Book On Amazon
Author Bio:
All the way from Cape Town, South Africa, Bella J lives for the days when she's able to retreat to her writer's cave where she can get lost in her little pretend world of romance, love, and insanely hot bad boys.
Bella J is a Hybrid Author with both Self-Published and Traditional Published work. Even though her novels range from drama, to comedy, to suspense, it's the dark, twisted side of romance she loves the most.
Follow the author on social media:
Learn more about the writer. Visit the Author's Website
Facebook Fan Page
Twitter