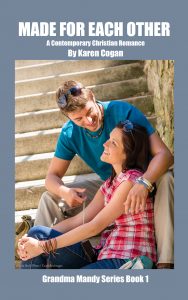 "About Made for Each Other:
When Lissa arrives in New Mexico,, her grandmother is recovering from a mild illness so Grandma's young friend, Jason, picks Lissa up from the airport. Though Lissa's attraction to him is immediate, she refuses to be tempted into romance. with a man in a creative profession. She knows from experience that the insecurity of his job would cause her stress and she has worked too hard, even at the expense of a guilty secret, to achieve success.to be the only one making a living. Still, since they are brought together because of their mutual tie with Lissa's grandmother, Lissa finds it increasingly hard to deny her growing interest in him. Will she be able to ignore the attraction or will her heart lead her down the path of love?
Jason also experiences an instant attraction to Lissa. However, his experience with his previous career woman girlfriend left him wary. Her devotion to her job often came before time to spend with him. Can he take the chance that Lissa will be different? Does she share his devotion to God? If he takes a chance with her, will she break his heart?
Targeted Age Group: young adult/adult
Written by: Karen Cogan
Illustrated by: Karen Cogan
Buy the ebook:
Buy the Book On Amazon
Buy the Book On Barnes & Noble/Nook
Buy the Book On Apple Books
Buy the Book On Kobo
Buy the Print Book:
Buy the Book On Amazon
Author Bio:
A native of Houston, TX, Karen spent her early years enjoying life along the Gulf Coast. After high school, she attended Texas A&M as well as the University of Houston where she obtained a
B.S. in early childhood education. She has written numerous articles and stories, books for children and novels for adults. She particularly enjoys writing romantic suspense and contemporary and historical romance. She has over thirty-one books in print and e-book format and she has several more in the works.
When she is not writing, Karen enjoys her grandchildren, horseback riding, reading and Bible study and dark chocolate. She is recently retired from public school teaching and uses the experience of working with children to plan and write her children's books.
She now lives in the Southwest with her family and assorted pets.
For more information about Karen and her books, go to https://www.amazon.com/Karen-Cogan/e/B001JSB9XE or https://www facebook.com/karencoganfanpage/.
Follow the author on social media:
Learn more about the writer. Visit the Author's Website
Facebook Fan Page
Twitter
Instagram
This site contains affiliate links to products. We may receive a commission for purchases made through these links.