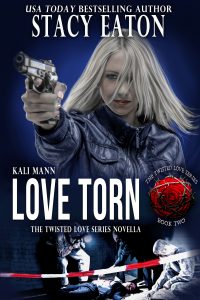 "About Love Torn:
Detective Kali Mann lives by her nickname: The Mann-Eater. She's a true love them and leave them with no attachments—ever. She's hard-core, to the point, intense and she doesn't always play nice with others. When her partner, Keith Harvard, finally gets her to take notice of him, the case they are working goes awry, and suddenly Kali is having emotions she's not sure she wants. A major part of her past will come back to haunt her and just as she beings to open herself up, her life will be torn apart.
Love Torn is the second book in the Twisted Love Series. The first book, Love Lorn, was written by Amy Manemann. If you haven't read it, now is the time to so that you have the backstory on Detective Evie Harper when they two characters are partnered together in Love Inked.
The Twisted Love Series:
The first full-length co-authored novel releasing January 3rd, Love Inked, will introduce author Amy Manemann's Detective Evie Harper with author Stacy Eaton's Kali Mann as they become partners. Their lives are about to change, and the cases they will investigate will be intense. Between a new serial murder and dealing with their pasts, these two will be tearing up the streets and the pages as they deal with Twisted Love.
Targeted Age Group: Adult
Written by: Stacy Eaton
Buy the ebook:
Buy the Book On Amazon

Author Bio:
Stacy Eaton is a USA Today Best-Selling author and began her writing career in October of 2010. Stacy took an early retirement from law enforcement after over fifteen years of service in 2016, with her last three years in investigations and crime scene investigation to write full time.
Stacy resides in southeastern Pennsylvania with her husband, who works in law enforcement, and her teen daughter who is working toward her third-degree black belt in Tae Kwon Do and is a competitive cheerleader on an All-Star Team. Stacy also has a son who is currently serving in the United States Navy and a new grandson.
Stacy is very involved in Domestic Violence Awareness and served on the Board of Directors for her local Domestic Violence Center for three years.
Follow the author on social media:
Learn more about the writer. Visit the Author's Website
Facebook Fan Page
Twitter
Instagram