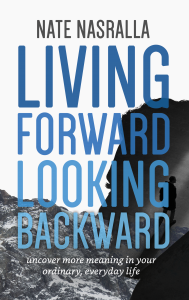 About Living Forward, Looking Backward:
If we're honest, we'll admit our days are filled with normal routines, like eating cereal and sitting in traffic. We often wonder, "is this it?"
But do we really have to quit our jobs and travel the world to find a fulfilling, purposeful life? Is it possible to find significance in our daily routines, right here and now?
After experiencing a rapid series of major life changes within a single year, Nate stumbled upon a reality that's shared by us all: there's profound meaning in our ordinary, everyday moments, but we can't see it.
Through painfully-honest storytelling and candid conversation, Nate shares how years of mistakes and missteps uncovered a simple framework that reveals the greater purpose behind our everyday lives, and why the answers to life's deep questions are often backward from what we expect.
Buy the ebook:
Buy the Book On Amazon

Author Bio:
Nate is an author & entrepreneur who helps us find more meaning in the ordinary, everyday moments of our lives. You can often find him eating peanut-butter toast, climbing the Rocky Mountains, or cracking up at his own jokes.
Nate and his wife, Erin, were raised in Chicago and now hail from Denver. After moving cities and cycling through a rapid series of major life changes, Nate launched his publishing company, Live Forward, to help others find more meaning in their everyday lives.
Building on his experience as the co-founder of a successful, venture-backed startup company, and as a frequent speaker and trainer on storytelling for nonprofit leaders, Nate's recent book, Living Forward, Looking Backward, helps others understand the greater purpose behind their own life stories.
Through Nate's memories, stories, and candor, we learn how the principle of paradox and the story of the Gospel shows up in each of our lives, often in ways we don't expect, and ways that feel even a little backward to us.
Follow the author on social media:
Learn more about the writer. Visit the Author's Website
Instagram
This site contains affiliate links to products. We may receive a commission for purchases made through these links.