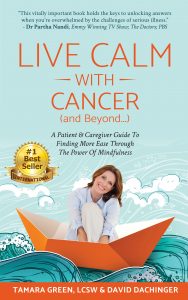 About Live Calm With Cancer (and Beyond…):
Having cancer may seem like a wrongness, a mistake in your life plan. Certainly it wasn't the reality we had in mind! But what if cancer is also a gift? An opportunity to press the reset switch? In Live Calm With Cancer (and Beyond…), stage IV cancer survivor David Dachinger and his wife, Tamara Green, talk straight about their cancer journey and how you, too, can navigate the choppy waters of diagnosis, treatment, and survivorship.
Through stories, mindfulness tips, and meditations, they show the way to anyone who is experiencing cancer-related stress, anger, sadness, isolation, or fear. In these pages you'll discover:
• How to release depression and anxiety.
• How to experience the tremendous power of love and presence.
• How to choose and protect your inner peace.
Major illness is life-altering. If you or a loved one desire less stress and greater ease, this book is for you.
Buy the ebook:
Buy the Book On Amazon

Author Bio:
David Dachinger and Tamara Green, LCSW are the co-founders of Loving Meditations. David is a featured author and Grammy-nominated composer who has scored inspiring music for America's most celebrated sporting events and television shows. David is a survivor of stage IV cancer. Tamara is an author, speaker, and trainer, whom Elle magazine referred to as "the soul-centered psychotherapist and meditation facilitator." Tamara combines her many years of professional training and her life experience as a caregiver to create powerfully effective guided meditations that have helped thousands to achieve peace, love, and well-being. Together, this married couple has created transformative mindfulness based stress reduction programs that help patients and caregivers to dramatically reduce anxiety, pain, and discomfort throughout their medical ordeal.
Follow the author on social media:
Learn more about the writer. Visit the Author's Website
Facebook Fan Page
Twitter
This site contains affiliate links to products. We may receive a commission for purchases made through these links.