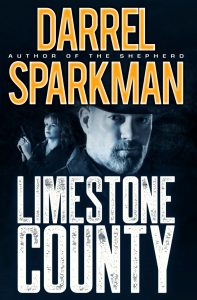 "About LIMESTONE COUNTY:
THE MEASURE OF A MAN IS NOT WHERE HE STANDS IN MOMENTS OF PEACE, BUT WHERE HE STANDS IN MOMENTS OF TUMULT.
Jim Lane is pulling himself together after burn-out from a rescue gone bad. A peaceful life on Stockton lake seems just the ticket.
AN EXPLOSION OF ANGER.
Jolted by betrayal, he survives an attempt on his life only to be drawn into a bloody turf war with the Russian mob. County sheriff Rita Morris knows his history and isn't buying his explanation.
UNREASONING FEAR.
Rita lost her husband to a random shooting. Unsure if she's ready to move on, she can't deny the connection she feels with Jim. It's a complication, but the pair form a united front with a simple message to the Russians. Get out of Limestone County!
A COUNTRY BOY.
Jim Lane knows he can't lose this fight. When the first bullet flies he steps into a whirlwind of twists and turns, new love, and old friends that hurtle to the end with an ally he never expects… and a blood debt that will keep him looking over his shoulder for the rest of his life.
Targeted Age Group: 14+
Written by: Darrel Sparkman
Buy the ebook:
Buy the Book On Amazon
Buy the Book On Barnes & Noble/Nook

Buy the Print Book:
Buy the Book On Amazon
Author Bio:
Darrel Sparkman is a published author of eight novels, two novellas, over a dozen short stories and has been a feature writer for Saddlebag Dispatches. Ideas come from a diverse past of serving as a combat search and rescue helicopter crewman in Vietnam and a volunteer Emergency Medical Tech. He has worked as a professional photographer, computer repair tech and was part-owner of a commercial greenhouse operation and flower shop. Darrel is enjoying semi-retirement and finally has that job that wakes you up every day with a smile.
A word from Darrel:
I never studied much. School wasn't a big interest for me. In retrospect, I wish I had. But, what I did was read. Didn't have much of a childhood, so I read to escape. Four to five books a week—from middle school into adulthood. You name it—I read it.
Changing schools over twenty times from kindergarten to twelfth grade gave me insight into people and circumstances—and the value of standing your ground. I loved science fiction, but when the genre morphed to dragons and zombies, I dropped out.
Being raised in rural America bent me toward adventure novels and westerns, and I've been writing since I was young. Reading an adventure novel and wanting to get on to the next one gave me the style in my writing of picking a week or so in the protagonist's life and riding hell-bent from problem to solution. My heroes are prone to suddenness of action and intent.
Writing can exorcise your demons, give you the pleasure of a story well told, and drive you to distraction. But it is always a ride worth taking.
Follow the author on social media:
Learn more about the writer. Visit the Author's Website
Facebook Fan Page