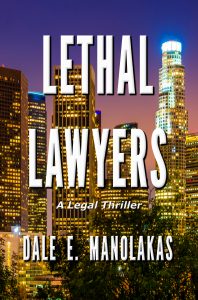 "About Lethal Lawyers:
☆ Kindle Unlimited Series REVIEW: "Warning–don't start reading until you have time!"☆
In this legal thriller, infighting, carnage, and sexual favors are the law at the Los Angeles law firm of Thorne and Chase. Partners and associates cannibalize each other in its cutthroat culture battling for money, power, love, clients, and ultimately their own survival. With blue-collar idealism and onerous student loans, first-year associate Sophia Christopoulos covets the firm's money and power. But her new friendships, love, and success come with the devastating price of disillusionment, murder, and betrayal. When Sophia is hurled into a murder investigation, she is torn between ethics and firm politics, as well as love and truth. Fighting to save her career and life, she becomes the star witness—and then a target. ☆ THE GUN TRIAL ~ Second in Series ~ 4.6 stars USA ☆
REVIEWS: "Author Dale E. Manolakas delivers with fully-realized characters who explode off the page. Visceral. Sensual. Alive. Highly recommended." "A strong, scathingly entertaining commentary on the Los Angeles legal community. Keeps the reader guessing until the end." "Wow! Powerful look into the law business!" [See Amazon Author Page for Book Trailers and You Tube Channel Dale E. Manolakas]
Buy the ebook:
Buy the Book On Amazon

Author Bio:
TOP 100 LEGAL THRILLER AUTHOR
After a lifetime of writing poetry, books, nonfiction, and legal documents, author Ray Bradbury's friendship and encouragement finally inspired Dale E. Manolakas to pursue writing as a career.
Dale E. Manolakas earned her B.A. from the University of California at Los Angeles, and M.A., M.S., Ph.D. and J.D. degrees from the University of Southern California. She is a member of the California Bar, had the privilege of clerking for The Honorable Arthur L. Alarcón at the United States Court of Appeals for the Ninth Circuit, was a litigator in two major Los Angeles law firms, a senior appellate attorney at the California Court of Appeals, and an Administrative Law Judge. She is also a member SAG-AFTRA and Actors' Equity Association.
Become an insider: gain early access to previews of Dale's new legal thrilllers.
Follow the author on social media:
Learn more about the writer. Visit the Author's Website
This site contains affiliate links to products. We may receive a commission for purchases made through these links.