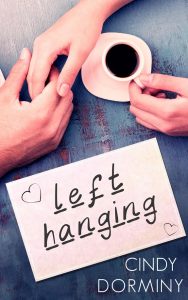 "About Left Hanging:
When Darla discovers that the new cute doctor everyone is talking about is her daughter's father, she knows she needs to keep her distance from the man who abandoned her and their child.
Targeted Age Group: adult
Written by: Cindy Dorminy
Buy the ebook:
Buy the Book On Amazon
Buy the Book On Barnes & Noble/Nook
Buy the Book On Apple Books
Buy the Book On Kobo
Author Bio:
After several decades of writing medical research documents, Cindy decided to switch gears and write stories where the chances of happy endings are 100% and the side effects include satisfied sighs, permanent smiles, and a chuckle or two. She writes romance novels with a slice of humor that range from historical romance to southern fried romantic comedies. Her young adult debut novel, Tuned Into You was released in June 2016 and will be re-released through Rhetoric Askew in early 2019. Her adult light romances, Left Hanging (March 2017) and In A Jam (April 2018), are both published by Red Adept Publishing. Right For Me, a companion novel to Left Hanging will be released early 2019. Her novella, Exes, Ohs, and Mistletoe, is part of Let It Snow: A Holly Grove Anthology, available in November, 2018.
Cindy was born in Texas and raised in Georgia. She received her Bachelor's Degree from Kennesaw State University and her Master's Degree from The University of Georgia. Cindy enjoys gardening, reading, bodybuilding and a whole bunch of movies. She can be overheard quoting lines from her favorite movies… a lot. But her favorite pastime is spending time with Mark, her bass playing husband, Maddie Rose, the coolest girl on the planet, and fur child Daisy Mae. She currently resides in Nashville, TN where live music can be heard everywhere, even at the grocery store.
Follow the author on social media:
Learn more about the writer. Visit the Author's Website
Facebook Fan Page
Twitter
Instagram
This site contains affiliate links to products. We may receive a commission for purchases made through these links.