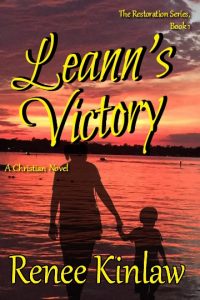 "About Leann's Victory:
Cade had learned as a young boy not to trust anyone. Anyone, that was except Leann. She was the one person he could count on. He never doubted for a moment her love and loyalty. Everything he has done for the past three years has been to repay her for all she has given him. Leann's illness, however, sends him into a tailspin, twirling everything he thought he knew into chaos. Her past overwhelms him and sends him searching for the truth.
Graham had loved Leann first. She had been his world, long before Cade came into the picture. He had vowed to love her forever. Would he tell Cade the truth or would he keep Leann's secret? Would sharing what he knew set Leann free to finally gain the victory over her past?
Cade's search for the truth carries him from the small resort community of Crystal Lake, North Carolina, to the sunny shores of Palm Island, South Carolina. Unaware of the God who is leading him in his journey, Cade discovers the incredible price of Leann's Victory.
Targeted Age Group: 25-70
Written by: Renee Kinlaw
Illustrated by: Renee Kinlaw
Buy the ebook:
Buy the Book On Amazon

Buy the Print Book:
Buy the Book On Amazon
Author Bio:
Renee is your plain and ordinary girl from Horry County, SC who is head over heels in love with Jesus Christ. Raised as a Preacher's child, Renee found herself like the Prodigal Son, only she was the Prodigal Daughter. At the age of 21, Renee came to realization that her parents' salvation and her upbringing could not get her into heaven. It was then she began her relationship with Jesus Christ. A couple of years later, Renee met her husband/soulmate, of the past 20 years when he became the Pastor of her home church. Together they have a beautiful daughter who is actively involved in missions. Renee has also served as the Ministry Assistant for the Carolina Baptist Association for more than 15 years. Her calling into Women's Ministry has ignited a great passion within her. Her main goal in life is to share Jesus and help other women see just how much they are loved by Jesus Christ. Works by Renee include "God Has a Scrub Brush", "Baggage and All", and "Defining Christmas".
Follow the author on social media:
Learn more about the writer. Visit the Author's Website
Facebook Fan Page
Twitter