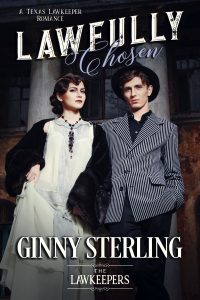 About Lawfully Chosen:
The Roaring 20's…
Penelope Brown had been tossed to the curb, a victim of the times. The start of the Great Depression had forced her lifestyle to change significantly from what she'd grown accustomed to. She's now working as a waitress in a small diner instead of seeing picture shows with friends, listening to the radio and living frivolously.
Sheriff William Clarke was tired of the riffraff happening in town. Dallas was a bustling city full of motor cars, hidden speakeasies, and burgeoning outlaws. The world was changing, and it was his job to maintain order. In a struggle to keep the peace, he found himself shutting off his emotions to protect his heart and soul. What he needed now was a sweet, gentle woman in his life to crack through the shell built around him.
When libation, recklessness and wild abandon whirl around all around Penelope, can the promise of excitement and carelessness be even more tempting than her very own handsome Lawkeeper? Will she hold fast to her faith and morals, finding that love can be just as thrilling with fewer consequences? Can she choose to be true to herself and not fall victim to the pressures of the world around her?
Buy the ebook:
Buy the Book On Amazon

Author Bio:
Ginny Sterling is an avid romance writer. She enjoys telling tales that tug at the heart. She enjoys reading and creating stories that leave the reader smiling, laughing or crying. She mostly writes Western Romances Books – including The Lawkeepers. She also writes Contemporary romance, as well as the Timeless Brides Series (Time travel romance) under the pen name, Gina Cole.
Having lived in several different parts of the United States, she and her family have settled in Kentucky. She spends all of her free time writing, quilting, or shopping for coffee mugs to add to her collection.
Follow the author on social media:
Learn more about the writer. Visit the Author's Website
Facebook Fan Page
Twitter
Instagram
This site contains affiliate links to products. We may receive a commission for purchases made through these links.