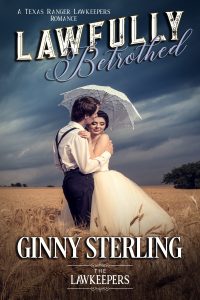 About Lawfully Betrothed:
Once upon a time…
That was how fairy tales were supposed to begin, except in the case of young Faye Miller. When a dark-haired boy sneaks into her favorite hiding spot, she isn't sure if this was the beginning of a fairy tale, a blessing, or an evil curse. Captivated by the sincerity and earnestness in his kind eyes, she's convinced that this boy was an angel sent from the heavens to show her life would be okay someday. When he pledges to marry her and gives her a ring made of grass… how could she ever say no?
Now, two decades later…Faye is still waiting for her grey-eyed angel to return to her.
Gabriel Reardon remembered that long-ago day fondly. That memory of an innocent pledge between children got him through the last twenty years of upheaval. He'd been coldly abandoned by his father, struggling for a chance at life and love. Now, he's returned home as a Ranger and a widower. He is intent on subduing the cattle rustlers in the area and hoping to rekindle a childhood dream.
Could it be that the two of them have missed their opportunity at happiness? Is the fairy tale over… or is this the very beginning of something beautiful?
Buy the ebook:
Buy the Book On Amazon

Author Bio:
Ginny Sterling is an avid romance writer. She enjoys telling tales that tug at the heart. She enjoys reading and creating stories that leave the reader smiling, laughing or crying. She mostly writes Western Romances Books – including The Lawkeepers Series. She also writes Contemporary romance.
Having lived in several different parts of the United States, she and her family have settled in Kentucky. She spends all of her free time writing, quilting, or shopping for coffee mugs to add to her collection.
______________________________
If you want spicy romance, check out Gina Cole, my pen name that writes steamy Contemporary and Time Travel romances with a flair for the happily ever after. The Timeless Brides series is a fun, outlandish, group of sexy books that are designed to delight and surprise readers.
Follow the author on social media:
Learn more about the writer. Visit the Author's Website
Facebook Fan Page
Twitter
Instagram
This site contains affiliate links to products. We may receive a commission for purchases made through these links.