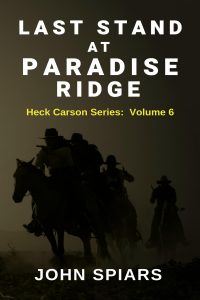 "About Last Stand at Paradise Ridge:
Heck Carson and his men have finally found the peace and prosperity they have worked so hard to achieve…or have they? Mason Lorde is a man long on memory and short on mercy and is willing to do whatever it takes to rid himself of Heck Carson once and for all. Heck is forced to strap on his guns one last time and enter a bloody battle that will lead to an epic showdown between the former ranger and the murderous cattle baron.
Targeted Age Group: 18-100
Written by: John Spiars
Buy the ebook:
Buy the Book On Amazon
Buy the Print Book:
Buy the Book On Amazon
Author Bio:
JOHN SPIARS is the author of Riders of the Lone Star, Hell and Half of Texas, Bound for Vengeance, Blood Trail, and Forbidden Country the first five novels in the Heck Carson Series as well as Bury me at Palmetto Creek, a western supernatural novella. Writing in the style of Louis L'Amour, Zane Grey, William Johnstone and Larry McMurtry, John Spiars is a western writer and amateur historian with a passion for telling the stories of the American West. In his novels, he combines his love of "Old West" history, Texas history, and telling an entertaining story, while also staying true to the people who forged this country out of a lawless frontier. He is a native Texan, and continues to live in North Texas with his wife and four children.
Follow the author on social media:
Learn more about the writer. Visit the Author's Website
This site contains affiliate links to products. We may receive a commission for purchases made through these links.