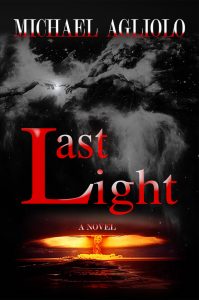 "About Last Light:
Michael Agliolo's stunning first novel takes you on a journey through human history on a collision course with nuclear Armageddon. Nine words, written in an ancient language, are found embedded deep in the pixels of a photograph taken by Photographer Matt Reese. Struck by a flash of light Matt and model Elaine Gardner experience a simultaneous near-death experience that leads them to the epicenter of a world on the brink of nuclear war. As the past echoes to today, the power of a single photograph is all that separates humanity from World War III.
Targeted Age Group: 18+
Written by: Michael Agliolo
Buy the ebook:
Buy the Book On Amazon
Buy the Book On Barnes & Noble/Nook
Buy the Book On Smashwords
Buy the Print Book:
Buy the Book On Amazon
Buy the Book On Barnes & Noble/Nook
Author Bio:
With a master's degree in photography and a thirty-year career producing images for most of the fortune 500 companies. Michael Agliolo's vision has evolved from revealing the outside world of images to revealing the inside domain of his imagination. Words have now taken the place of his camera lens, allowing you to experience the impact of his writing internally as if they were a series of photographs.
Michael lives with his wife Nancy in their Northern California home just 10 miles from the worst fire in California history in the town of Paradise. Just as the people of that town have risen from the ashes of devastation, readers of Michael's books will also be uplifted to see beyond the impossible and into the imaginable.
Follow the author on social media:
Learn more about the writer. Visit the Author's Website
Facebook Fan Page
Twitter
Instagram
This site contains affiliate links to products. We may receive a commission for purchases made through these links.