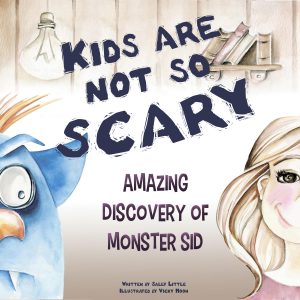 "About Kids Are Not So Scary. Amazing Discovery Of Monster Sid: A Funny Rhymes Book For Preschool Early Readers (ages 6-8) To Teach Your Kids How To Overcome Anxiety And Fear Of Darkness.:
What if monsters have the same fears of their own?
Kids are not so scary. Amazing discovery of Monster Sid is an interesting and cute bedtime story for toddlers about a smart Monster Sid who lives a quiet life with his loving mommy and daddy. But every night when the lights are off and parents are gone Sid cannot fall asleep because he is afraid that terrifying kid is hiding in his closet.
How surprised he was when he overcame his fear and opened the hideous closet!!!
Would you like to know what was hiding in the closet, where Sid met a child and how little monster was able to conquer his fears? Read the book and you'll find this out!
This is the best poem about fears and friendship with an engaging storyline to read for girls and boys ages 4 to 9 years old. It will give children something to think about and explain to them that there is no sense in being afraid of something that might be just as frightened of you.
Targeted Age Group: 4-12
Written by: Sally Little
Illustrated by: Vickky Moon
Buy the ebook:
Buy the Book On Amazon

Buy the Print Book:
Buy the Book On Amazon
Author Bio:
Combining her passion for both Children and creative writing Sally Little writes magical poems teaching kids essential values in an easy to understand manner.
From her early childhood, Sally had an affinity for writing, which was fueled by her vivid imagination. The comic books she loved to read as a child has influenced her rhythmic writing style and subtle sense of humor.
With the arrival of her beloved little son, she learned what types of books interest kids as well as what parents need for nurturing mindful, socially and emotionally aware children.
Her beautifully illustrated magical stories not only full of lovable characters and engaging storylines but also carry with them an ethical message appealing to the hearts of children.
"My greatest desire in life is to help as many children as possible to grow up to be successful, happy and self-confident." – Sally Little.
Follow the author on social media:
Facebook Fan Page
Twitter
This site contains affiliate links to products. We may receive a commission for purchases made through these links.