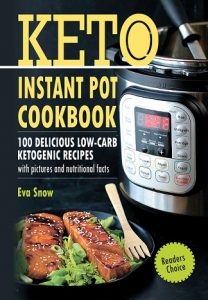 "About Keto Instant Pot Cookbook:
A brilliant Keto diet Instant Pot cookbook will help you to embrace the Ketogenic lifestyle using electric pressure cookers like Instant Pot. What makes it different from the other similar Ketogenic Instant Pot cookbooks? First of all, all the Keto recipes in this book include pictures of the finished dishes – so you know what you cook – and detailed nutritional facts.
What else? Just take a closer look what`s inside this incredibly useful Keto Instant Pot recipe book:
• You`ll get a complete guide to the Keto diet: how it works, what ketosis is, main Keto mistakes all beginners make and how to avoid them as well as an ultimate list of prohibited and allowed on Ketogenic diet products.
• Also, you`ll find a comprehensive guide to cooking with an Instant Pot, featuring its benefits and tips on making use of it.
• Moreover, a 14-day smart and easy-to-follow Instant Pot Keto Meal Plan was prepared to get you started.
• Finally, you`ll get a surprising variety of over 100 insanely delicious Keto Instant Pot recipes – from savory low-carb breakfasts and hearty dinners to wonderfully tender high-fat desserts and healthy snacks.
Start your journey towards the Keto World today by purchasing Keto Instant Pot Cookbook!
Targeted Age Group: 18-85
Written by: Eva Snow
Buy the ebook:
Buy the Book On Amazon

Buy the Print Book:
Buy the Book On Amazon
Author Bio:
Eva Snow is a nutritional consultant from Colorado, food enthusiast and great food lover. A lover of healthy food! She adores cooking and experimenting with food. Also, she takes good care of herself regarding food knowing that "You are what you eat." She always knows what she eats and how it influences her body – just because she loves herself. Eva Snow is an author of three popular books – 30-Day Whole Food Diet Cookbook; Paleo Drinks: Smoothies, Shakes, Cocktails, and The Keto Miracle: The Best Damn Keto Diet Recipes on the Web. Before writing a book about a diet, she tries it on, creates the recipes, and goes through all the dieting process by herself. In her books, Eva shares the idea of healthy eating as the basis of great health and happy life.
Eva is a 30-year-old single woman who loves to travel. Currently, she explores South-East Asia so you might find some delicious Asian-styled recipes in her books as well. She keeps her healthy lifestyle even being on travel which is not easy at all and thereby inspires thousands of people not to give up healthy habits no matter what.
This site contains affiliate links to products. We may receive a commission for purchases made through these links.