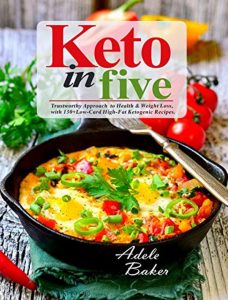 "About Keto in Five: Trustworthy Approach to Health & Weight Loss, with 130 Low-Carb High-Fat Ketogenic Recipes:
Are you looking for fast & easy Keto recipes that fit with your lifestyle and busy schedule?
Look no further than The Keto in Five, where you'll find super easy 5-ingredient low-carb high-fat recipes that will save your time, efforts and money.
This 5 ingredients ketogenic cookbook offers:
• 5-ingredient recipes that are going to make life easier
• Keto Breakfast, Lunch, Main and Side dishes, which are full of incredible combinations of just five ingredients
• Simple dinner ideas, low carb desserts, chicken, beef and other fantastic recipes
• Special chapters for soups and salads lovers
• Drinks, Shakes & Smoothies that are both inspiring and trustworthy
You'll be cooking with natural, wholesome ingredients that are easy to find and affordable. There is no need to go to five different grocery stores just to hunt down a bunch of unfamiliar ingredients. It's time to embrace not only a diet but a new and healthy way of life!
Targeted Age Group: G
Written by: Adele Baker
Buy the ebook:
Buy the Book On Amazon
Author Bio:
Adele Baker was born in the shadow of the Blue Ridge mountains. Her father's job relocated the family every few years. At 13, she had experienced many cuisines, from Cajun seafood gumbo, to Swiss cheese fondue, to Mediterranean keftedes (lamb meatballs). Her family prioritized time around the dinner table, and there were usually more people at the table than the original six. She appreciated the close-knit family of her childhood, and valued meals together.
Micah and Adele met in college, married, and within two years of graduation, their family had grown. Addie Rae was born in March, and Adele experienced unbounded joy during her daughter's first year. The family hiked the Blue Ridge mountains with Addie Rae tucked into the backpack. They sailed the lakes of northern Michigan, skied and biked the hills of Virginia and hiked the San Jacinto mountains of California.
Despite a healthy lifestyle, Adele discovered that the weight gain of pregnancy had not disappeared. She sought a workable diet, and research led her to the ketogenic diet. It fit well with her lifestyle and became a way of life. The pounds melted and Adele's energy increased. The theme of a healthy diet so captivated her that she continued to create delicious recipes for everyday life. She hopes that you enjoy the following recipes, and wishes you success with your new way of life.
This site contains affiliate links to products. We may receive a commission for purchases made through these links.