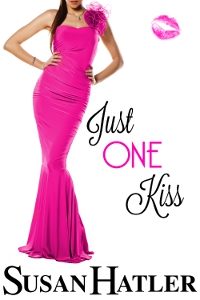 "About Just One Kiss:
Charlie Rockwell's divorce from her rock star ex left her with a broken heart, a mansion on the bluffs in her hometown of Blue Moon Bay, and an empty back account. Now, Charlie has to generate enough income to keep the house she loves.
When producers of the soap opera, Just One Love, offer to rent Charlie's house for a sizable fee, Charlie's tempted. Only she wants nothing to do with the spotlight or dating someone famous again, and the show's sexy star, Luke Montgomery, has her in his sights. Reluctantly, Charlie agrees to rent her home and vows to stay out of Luke's way.
Unexpectedly, as filming progresses, Charlie witnesses Luke's sweet side. She also remembers her college theater days and love of acting. During an on-set emergency, she's asked to stand-in during a scene, and her undeniable chemistry with Luke impresses the producers enough that they want Charlie full-time.
Can Charlie finally have the career she's dreamed about? And will Luke break her heart, or will he be everything he seems and what she always wanted?
Targeted Age Group: General adult
Written by: Susan Hatler
Buy the ebook:
Buy the Book On Amazon
Buy the Print Book:
Buy the Book On Amazon
Author Bio:
SUSAN HATLER is a New York Times and USA TODAY bestselling author, who writes humorous and emotional contemporary romance and young adult novels. Many of Susan's books have been translated into German, Spanish, French, and Italian. A natural optimist, she believes life is amazing, people are fascinating, and imagination is endless. She loves spending time with her characters and hopes you do, too.
Follow the author on social media:
Learn more about the writer. Visit the Author's Website
Facebook Fan Page
Twitter
Instagram
This site contains affiliate links to products. We may receive a commission for purchases made through these links.