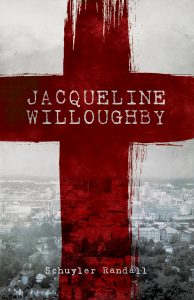 About Jacqueline Willoughby:
In Jacqueline Willoughby, a string of grisly murders seemingly connected to the Bible's Ten Commandments will ultimately lead two FBI agents to a rare book. The tome, written decades ago by a woman named Jacqueline Willoughby, recounts multiple murders by a young girl with eerily similar details to the current killings. In due course, the agents Kason McAlester and Troy Stevens track down one of the surviving copies of the book and discover they have a copycat on their hands. In a race against the clock, Kason and Troy search for clues within the story to help them catch a serial killer.
Buy the ebook:
Buy the Book On Amazon
Buy the Book On Barnes & Noble/Nook

Author Bio:
Schuyler Randall was born in Bronx, New York but raised in Graysville, Alabama. He now lives in McCalla, Alabama with his wife Yvette. He's a freelance writer and attends the Hoover Library Write Club. He enjoys traveling, attending live sporting events and concerts, loves Dutch seventeenth century paintings and listening to a good story. But most importantly, he enjoys being around family and friends.
Follow the author on social media:
Learn more about the writer. Visit the Author's Website
This site contains affiliate links to products. We may receive a commission for purchases made through these links.