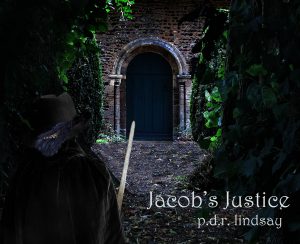 About Jacob's Justice:
It's 1642, and England is tearing itself apart. King against Parliament, King against religion, Parliament and Puritans against the King, politics and power heading for disaster.
Twenty-three year-old Jacob Emerick, the youngest son of the Merchants Emerick, shipping owners, and their legal man, is sent on a lawyer's mission to save the family's gold and ships. He leaves cosmopolitan London for the narrow minded small Puritan town in Kent, where he must negotiate with the aristocratic Fowke family who want their loan paid back now, despite what the legal agreement says. The Fowkes want to give the money to the King. Corrupt King Charles wants the family's fortune, and loyalists to the King will do anything to help their despot. The extremist Puritans want the money and the Emerick ships too. Neither party cares how they get hold of the money and ships and Jacob is in the middle.
His journey barely begun, at a resting place on the trail Jacob finds the dead body of the Fowke lawyer with whom he was to work. It's a plain case of murder, and Jacob becomes the prime suspect. Jacob has to free himself from that charge, and fend off the treachery of Lady Fowke, staunch supporter of the King, as well as the attempts of bigoted Puritans to take control of the Emerick ships.
Jacob navigates through the attentions of other loyalist thugs who ravage and murder, and the bigoted Puritans, who are just as determined to use his family's gold. In a few short months Jacob sheds the easy bravado of a privileged young man to become a powerful fighter for justice, and his own man hoping for peace.
Buy the ebook:
Buy the Book On Amazon
Buy the Book On Smashwords
Buy the Book On Kobo

Author Bio:
p.d.r. lindsay wrote her first 'novel' aged seven, an attempt to persuade her parents to buy her a pony. It didn't work, but she'd discovered that writing and reading were an escape from her tormenting brother and devious sister. She could create people who loved her and wonderful imaginative places to escape to.
Poetry became her first love, then plays and finally stories from her adult imagination for herself and adult readers.
p.d.r. lindsay prefers historical stories for novels because she finds she can say things to readers in historical settings which readers might not accept in modern settings. She is concerned that certain social issues make repeat appearances over the centuries and likes her readers to think about the situations the characters find themselves in whilst enjoying their company. She also loves to travel and find unusual settings for her stories, and then
research to find a kernel of fact to grow her stories from.
Follow the author on social media:
Learn more about the writer. Visit the Author's Website
Twitter
This site contains affiliate links to products. We may receive a commission for purchases made through these links.