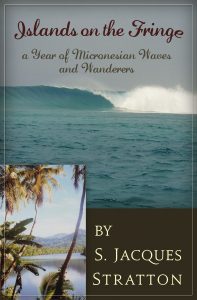 "About Islands on the Fringe: A Year of Micronesian Waves and Wanderers:
Voyage to the outcrops of the tropics, where dreamers and degenerates mingle in an exotic setting of mysterious jungle ruins, narcotic drinks, and secret un-surfed waves. In this encomium to his experience teaching English in Micronesia, S. Jacques Stratton offers a wry portrayal of the ex-pat life, conveyed through vignettes and characters that evoke a lost, limnal latitude. Both memoir and travelogue, augmented with photographs from the author's collection, ISLANDS ON THE FRINGE will spark the wanderlust of those who crave offbeat adventure beyond the main-traveled routes.
Targeted Age Group: 25-50
Written by: S. Jacques Stratton
Buy the ebook:
Buy the Book On Amazon

Author Bio:
Guided by his pagan alias, S. Jacques Stratton seeks adventure on the magical margins of the world. In his journeys, he has ventured into the ancient shade of New Zealand's Kauri forest, emabarked on an orangutan odyssey through the leech-infested jungle of Sumatra, and traveled the Pacific, from Costa Rica to the Philippines, on a quest for blue bliss. ISLANDS ON THE FRINGE represents the first book-length treatment of his travels.