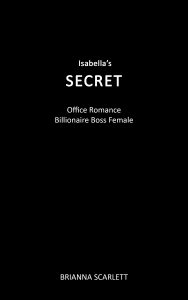 "About Isabella's SECRET: Office Romance Billionaire Boss Female:
Isabella Rodriguez is a high profile executive with the kind of power that makes her intimidating to others. She has this raw sexuality, but she is secretly frustrated by the lack of a strong man in her life. Nobody dares to speak up and follows her direction to the letter without a disparaging word to say about her. Office romances are messy and awkward. Michael is young and impressionable in desperate need of climbing the corporate ladder. She sees someone that she can mold into whatever she wants. Changing his look and the way that he acts makes her feel like she has him wrapped around her little finger. She hungers for him but feels it's inappropriate. She's going to learn that there's just so much a man can take before he takes matters into his own hands. How will she feel when the tables are turned?
Targeted Age Group: 18+
Written by: Brianna Scarlett
Buy the ebook:
Buy the Book On Amazon

Author Bio:
I loves the fun and joy in life! Hot and handsome guys!
Follow the author on social media:
Twitter