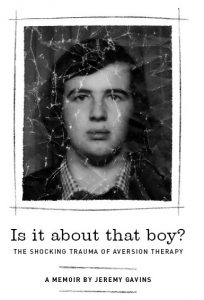 "About Is it about that boy? The Shocking Trauma of Aversion Therapy:
Jeremy is a gay boy brought up in a Catholic Household in Yorkshire, UK, where sex and love are taboo subjects. Sex on TV is deemed to be sinful; homosexuality especially so. He feels unloved and fears his parents finding out he is gay.
At school in 1970 aged sixteen, he falls in love with Stephen. For Jeremy, Stephen is the most beautiful boy in the world. With Stephen, he finds love and acceptance.
In 1972, Jeremy realises their relationship will finish at the end of their final school year and he has a stress breakdown at school. He admits to a Catholic priest he is homosexual.
Hoping for understanding, Jeremy receives condemnation from the Catholic Headmaster and staff. They convince him he is sinful, sick and diseased. The Headmaster gives Jeremy a choice. If he wishes to continue to be a homosexual, he will be expelled immediately and not allowed to take his A Levels. Jeremy knows this will ruin his life. He has a couple of offers from universities if he passes two A levels. He fears his parents will kick him out. The first option is rejected, the second is taken. He must volunteer to be treated for his 'disease.' The Headmaster tells Jeremy to inform his GP that he is a homosexual and wishes to be cured.
Electric shock aversion therapy at a mental hospital, is prescribed. The treatment starts on the morning of sitting his second A level; he subsequently fails his exams and has to do another year at school. With the threat of expulsion still hanging over him, he keeps going for treatment for six months. The purpose of the electric shocks become a desire to stop him loving Stephen. The therapy traumatises him. To escape the torturous treatment his brain creates images of Stephen dying in a road accident.
The story is not a misery memoir as it leads the reader through the lows and highs, of his life as he struggles to live with the memory of Stephen's death. At work, he finds he is excellent at practical work but when he has to concentrate on anything academic, only traumatic memories appear. Moving from job to job in search of peace, he finally achieves this through self-employment. Dry stone walling is his salvation.
Jeremy has to split himself in two to keep it together. Jeremy, the younger, is kept hidden and becomes hated by the adult Jerry. Jerry blames his younger self for being weak and giving in to the priests demands.
Twice in his life, Jerry is diagnosed with PTSD. The first in 1998 relates to Stephen's death. He receives over forty one-hour sessions of psychotherapy and bereavement counselling. The second time in 2010 relates to the traumatic after-effects of the aversion therapy.
Between these diagnoses the book follows Jeremy during the happiest decade of his life as he works as a dry stone waller in the Lake District and Scotland. He discovers his spiritual self through a new understanding of a gift that Stephen gave him the last time they had met in 1972.
In March 2011, during a psychotherapy session, a brief thought flashes through his mind that maybe he didn't see his boyfriend die. Following this revelation, Jerry proves it to be true and tries to find Stephen. He finds that Stephen died in a road accident in 1983.
To help him understand his past, Jerry researches the various aspects of psychology which relate to how the false memory could have been formed: Dissociation, cognitive dissonance, body memories, and PTSD. He receives EMDR, 'Eye Movement Desensitisation and Reprocessing. It was after this treatment in 2016 that Jerry realises that his younger self was not to blame for anything that happened and, re-united with himself, Jeremy finds peace.
Targeted Age Group: Adult
Written by: Jeremy Gavins
Buy the ebook:
Buy the Book On Amazon
Buy the Print Book:
Buy the Book On Amazon
Author Bio:
I am a sixty-five year old, single gay man. I live on my own, with my dog Timmy, in a small terrace house in Ulverston, a market town in South Cumbria, UK.
I started work in the textile industry forty five years ago, reaching the level of manager. However due to mental health problems caused by Aversion Therapy, doing academic work became impossible. I had to change jobs several times before becoming a self-employed professional dry-stone walling contractor in the Lake District. I love my occupation. During my very physical life I have been a rugby player, a mountaineer and a rock and ice climber. On my spiritual side I now live my life with meditation, Wicca, the Tarot, Reiki and Shamanism.
When I am not working on the Lakeland farms and fells, I spend all my good weather spare time walking in the Lakeland Fells with my dog, and in bad weather reading, meditating and doing the hardest Killer Soduku puzzles I can find.
This is my first book. Under a different title, 'The Stonewalls of My Mind' my book was
shortlisted for The Literary Consultancy Pen Factor Writing Competition 2017.
Follow the author on social media:
Learn more about the writer. Visit the Author's Website
Facebook Fan Page
Twitter
This site contains affiliate links to products. We may receive a commission for purchases made through these links.