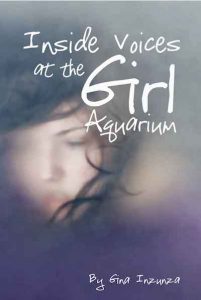 About Inside Voices at the Girl Aquarium:
This fictional book is about six teenage girls who let their "inside voices" out and escape their troubled lives using a simple, but powerful weapon: their poetry. At a NYC writing workshop, their talk isn't about pedicures and designer bags. Instead, they meet each month in this "safe" place to express their real fears, pressures and joys. Here, Tamara from Harlem dreams of going to an Ivy League college. Adela from Queens proclaims her science project to "fix" the world and Lorna describes the rush of playing lead guitar in a rock band. Through writing and sharing their work, the girls deal with issues like peer pressure, family troubles and bullying. Join them as they share their poems for the first time in public and attempt to break out of the Girl Aquarium.
Buy the ebook:
Buy the Book On Amazon

Author Bio:
Gina Inzunza grew up in Michigan and graduated from Michigan State University with BA degrees in journalism and English with a focus on poetry writing.In 2010, her play version of this book was selected for the 2010 Midtown International Theatre Festival in New York City, where she now lives.
Follow the author on social media:
Learn more about the writer. Visit the Author's Website
Facebook Fan Page