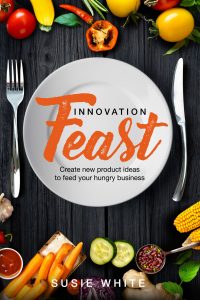 About Innovation Feast: Create New Product Ideas to Feed Your Hungry Business:
Is your business starved of successful new product innovation?
If your new products are regularly failing in market, you're not alone. Over 45% of food and beverage products don't last more than one year on the shelf, resulting in hungry businesses with no clue about what will drive their long-term growth.
Innovation Feast will show you how to create and manage successful new product ideas using a comprehensive five-stage innovation framework.
Packed full of practical hands-on innovation tools and exercises, you'll learn how to:
• Uncover fresh consumer insights to inspire new product ideas.
• Identify untapped opportunities where your competitors won't go.
• Create a three-year pipeline of winning product ideas to fuel business growth.
• Manage your innovation plans to prioritise resources and maximise in-market success.
Innovation Feast will help you answer those burning questions: How much should I innovate? Where should I focus my efforts? What type of new products should I make? How do I increase in-market success?
If your business is starved of successful new product innovation, this how-to book is a must-read to create food and beverages that people really want.
Buy the ebook:
Buy the Book On Amazon
Buy the Book On Barnes & Noble/Nook
Buy the Book On Kobo

Author Bio:
Product innovator Susie White helps food and beverage businesses of all sizes develop new product ideas and boost long-term sales. To date, she has generated more than 3,000 new product ideas and built new product pipelines worth over $800 million in sales.
Follow the author on social media:
Learn more about the writer. Visit the Author's Website
Twitter
Instagram
This site contains affiliate links to products. We may receive a commission for purchases made through these links.