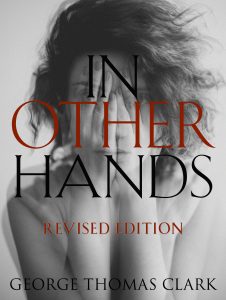 "About In Other Hands: Revised Edition:
In search of stimulating stories, George Thomas Clark interviewed prostitutes in Madrid, Mexico City, Havana, and Managua and on many boulevards in the United States, and talked to detectives and rode the rough roads of social workers who deal with human trafficking, which is contemporary slavery, and toured the tattered, handmade shelters of the homeless and also interviewed them on the streets and in shelters, and conversed with the poor in the United States, Mexico, Ecuador, and Spain, and sometimes used several lives to create composite stories, and even a few tales, and everywhere the author ventured he witnessed struggles of those whose lives are bound In Other Hands.
Targeted Age Group: Adults
Written by: George Thomas Clark
Buy the ebook:
Buy the Book On Amazon
Buy the Book On Barnes & Noble/Nook
Buy the Book On Apple Books
Buy the Book On Kobo
Buy the Print Book:
Buy the Book On Amazon
Author Bio:
George Thomas Clark is the author of In Other Hands: Revised Edition, Paint it Blue, Death in the Ring, The Bold Investor, Hitler Here, an internationally-acclaimed biographical novel, King Donald, Obama on Edge, Echoes from Saddam Hussein, Basketball and Football, and Tales of Romance.
In addition to writing, Clark follows the news and sports, exercises daily (albeit delicately), collects contemporary art, enjoys independent movies, and travels to places (most recently Madrid, Mexico City, Quito, Guanajuato, and Aguascalientes) where he can socialize in Spanish.
Follow the author on social media:
Learn more about the writer. Visit the Author's Website
Facebook Fan Page
Instagram