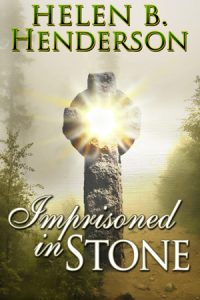 "About Imprisoned in Stone:
For the crime of healing without payment, the Brethren imprisoned Dylan's soul in stone. Centuries later, he senses the touch of another's mind and hope for escape soars. However, his potential savor is unaware of her latent magic.
Cuhlwich, the current head of the Brethren plans to control any and all who have magic. Although displeased with his son, Colwynn, who like the long-imprisoned Dylan, uses his powers to heal those unable to pay the Brethren's toll, Cuhlwich orders Colwynn to father a child by a woman of the Brethren's choosing. The Brethren will have their demand met, even if it means using magic to enforce their will. Only Colwynn wants to choose his own mate–an unknown woman who calls him from afar.
Caught in the middle of this tempest is a young woman trapped by fate. She has the power to free Dylan, but her only knowledge of him comes from an eerie message on the wall and nightmarish dreams.
A spell kept secret for generations / A brotherhood thirsting for power /
Demands that cannot be obeyed / A woman who stands to lose everything.
Four paths–one destiny / With the power to bind souls and control all magic in the balance.
Targeted Age Group: PG-13
Written by: Helen Henderson
Buy the ebook:
Buy the Book On Amazon
Buy the Book On Barnes & Noble/Nook
Buy the Book On Smashwords
Buy the Book On Apple Books
Buy the Book On Kobo
Buy the Print Book:
Buy the Book On Barnes & Noble/Nook
Author Bio:
Although the author of several local histories, and numerous articles on the topics of American and military history, antiques and collectibles, Henderson's first love is fiction. Her work in the museum and history fields enables a special insight into creating fantasy worlds. The descendent of a coal-miner's daughter and an aviation flight engineer, her writing reflects the contrasts of her heritage as well as that of her Gemini sign. Her stories cross genres from historical westerns to science fiction and fantasy. In the world of romantic fantasy, she is the author of the Dragshi Chronicles and The Windmaster Novels. In her books, she invites you to join her on travels through the stars, or among fantasy worlds of the imagination.
Follow the author on social media:
Learn more about the writer. Visit the Author's Website
Facebook Fan Page
Twitter
This site contains affiliate links to products. We may receive a commission for purchases made through these links.