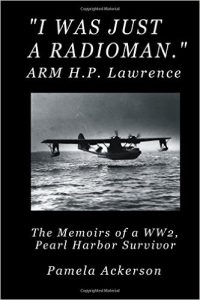 "About I Was Just a Radioman:
Their hearts were strong, and their courage endless.
Pearl Harbor survivor, Black Cat radioman, and decorated WW 2 veteran. ARM H. P. Lawrence, tells the true story of the fight against the Japanese in this compilation of his memoirs.
One of only a handful of non-Native American code-talkers, H. P. Lawrence became a member of an elite fighting force, the Black Cats. Flying in their nocturnal missions, the Cats claws were sharp and their aim deadly.
From devastation to victory, the story of these brave men−the deadly, mysterious, and illusive Black Cats is a journey into the past where nightmares came true and hatred reigned. A time in history we should never, ever forget.
The day which will live in infamy…was just the beginning.
Targeted Age Group: 25 to 85
Written by: Pamela Ackerson
Buy the ebook:
Buy the Book On Amazon
Buy the Audio Book:
Buy the Book On Amazon
Buy the Print Book:
Buy the Book On Amazon
Author Bio:
Pamela Ackerson started writing poems and short stories as a teen. Later, as a young mother, she continued writing children's stories and poems. Born and raised in Newport, RI where history is a way of life, Pam now lives on the Space Coast of Florida, a hop, skip, and jump from Orlando, where imagination and fantasy abounds. She has three children, all girls, three grandchildren and a wonderful husband. (Obviously, don't we all say that?) But, it is true and she will be the first to admit it. He is a wonderful husband and she has concrete, undeniable proof. She has not plotted his demise… yet.
Pam may have majored in child psychology with a minor in English, but her distinguished choice of careers never made fruition. Instead life led her to working in restaurants, interior decorating, owned an advertising business, content editor for a publishing house, owned a ballroom dance studio, and real estate investments. Pam is a practicing herbalist and has been involved in the use of natural treatment with raw herbs for almost thirty years. As her day job, she currently works as the V.P. of Marketing and Advertising for the book review magazine, Affaire de Coeur.
Follow the author on social media:
Learn more about the writer. Visit the Author's Website
Twitter
This site contains affiliate links to products. We may receive a commission for purchases made through these links.