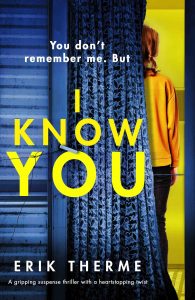 "About I Know You:
Two days ago, Bree's sixteen-year-old sister, Alissa, ran away from home. It wasn't the first time. But unlike before, this time there was no note, and Alissa hasn't been heard from since.
When a backpack appears on the front porch, Bree is confused to find Alissa's belongings inside—including her wallet—as Alissa is still nowhere to be found. Then the text messages begin: I have your sister. Now I want your brother.
As the messages increase in frequency and urgency, one thing becomes clear: time is running out . . . for all of them.
Targeted Age Group: Adult
Written by: Erik Therme
Buy the ebook:
Buy the Book On Amazon

Author Bio:
Erik Therme has thrashed in garage bands, inadvertently harbored runaways, and met Darth Vader. When he's not at his computer, he can be found cheering on his youngest daughter's volleyball team, or watching horror movies with his oldest. He currently resides in Iowa City, Iowa—one of only twenty-eight places in the world that UNESCO has certified as a City of Literature. Join Erik's mailing list to be notified of new releases and author giveaways: http://eepurl.com/cD1F8L
Follow the author on social media:
Learn more about the writer. Visit the Author's Website
Facebook Fan Page
Twitter
This site contains affiliate links to products. We may receive a commission for purchases made through these links.