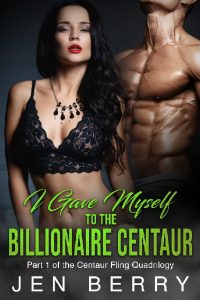 "About I Gave Myself to the Billionaire Centaur:
Has Lucy finally found love?
With her best friend captured by the Werewolf Pack, it's up to Lucy to save her.
To do that, Lucy has to find a way into the Magical Real. The only problem is that neither side in the ongoing war will help her.
Thankfully Lucy's years as a high-powered lawyer have taught her a trick or two.
With the help of a rogue werewolf Lucy may have found an answer to her problem.
A billionaire centaur living in Seattle holds the keys to the Magical Realm. With his help, Lucy might just be able to save Grace. But as usual, things aren't as simple as they appear.
The Billionaire hasn't shifted to his centaur form in years…
A dragon wants Lucy for himself…
Follow Lucy on her journey to save her best friend! What began as a thrilling fling with Bigfoot, the Yeti, and the Loch Ness monster now continues with the Centaur. This time, however, Lucy finds something she wasn't looking for… love.
I Gave Myself to the Billionaire Centaur is the first true Romance in the "Monster Fling" Universe!
But that doesn't mean that it is less steamy than the books that have come before it 😉
This steamy romance picks up where the events of I Gave Myself to the Werewolf Pack ended, but can be read as a standalone.
Despite happenings inside this story not being entirely sunshine and roses, this couple gets their sweet Happily Ever After ♥
Targeted Age Group: 30
Written by: Jen Berry
Buy the ebook:
Buy the Book On Amazon
Author Bio:
Jen Berry is a housewife and mom who enjoys writing steamy shifter romances whenever she can! It all began with a story about Bigfoot but quickly expanded into 6 short stories, which in turn became the "Monster Fling" Universe. This new Centaur Series is Jen's first novella length work.
Follow the author on social media:
Facebook Fan Page
This site contains affiliate links to products. We may receive a commission for purchases made through these links.