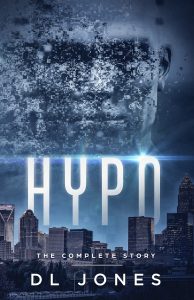 About HYPO: The Complete Story:
Chauncy and Tre were childhood friends. Tre, who works for a pharmaceutical company, is in town on business. Chauncy hadn't seen Tre since college and decides they should catch up. After picking Tre up from the airport, they are ambushed and kidnapped. Held hostage in an old abandoned house. With hopes of escape, Tre and Chauncy use an experimental drug from Tre's company that gives them extraordinary physical abilities.
After using HYPO, Chauncy finds out that there are side effect. Those side effects come into play once he finds out about a secret his wife, Becca, had been keeping from him. Tre shows up to solve the problem, but things aren't as they would appear.
This book is the complete story of HYPO as released in the serial shorts…HYPO: Exordium, HYPO: Appetence and HYPO: Apogee. Also included is the original screenplay from where this story was derived.
Buy the ebook:
Buy the Book On Amazon

Author Bio:
DL Jones was born in Brooklyn NY, grew up in Newport News VA and has spent the last 8 years in Charlotte NC. He has served time in the US Army and works as an IT Professional. His first love has always been tech, well computers and the web specifically, which has led to a lot of writing. He has had several websites/blogs and podcast over the years.
He started writing his first novel in 1998. There was no such thing as self-publishing as it is today. He had no end game, it was a hobby. He wrote on it for several years until a mishap caused him to lose the whole thing. It was a whole glass of soda and laptop issue, with no backups. Currently he has 4 novels in the works and the 3 HYPO shorts. 2 of his novels are fiction with HYPO being sci-fi, and his upcoming novel, Billette Hall, being a Horror/Thriller based in American slavery times. A third novel in the works, I Used to be FAT, is non-fiction, based on his life before and after 150lb weight loss. The last novel in the works is also non-fiction.
Follow the author on social media:
Learn more about the writer. Visit the Author's Website
Twitter
Instagram
This site contains affiliate links to products. We may receive a commission for purchases made through these links.