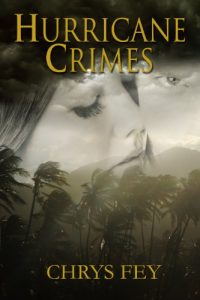 "About Hurricane Crimes:
*Hurricane Crimes is a romantic-suspense novella.*
After her car breaks down, Beth Kennedy is forced to stay in Florida, the target of Hurricane Sabrina. She stocks up supplies, boards up windows, and hunkers down to wait out the storm, but her plan unravels when she witnesses a car accident. Risking her life, she braves the winds to save the driver. Just when she believes they are safe, she finds out the man she saved could possibly be more dangerous than the severe weather.
Donovan Goldwyn only wanted to hide from the police, but the hurricane shoved his car into a tree. Now he's trapped with a beautiful woman while the evidence that can prove his innocence to a brutal crime is out there for anyone to find.
As Hurricane Sabrina wreaks havoc, Beth has no other choice but to trust Donovan to stay alive. But will she survive, or will she become another hurricane crime?
Targeted Age Group: 18+
Written by: Chrys Fey
Buy the ebook:
Buy the Book On Amazon
Buy the Book On Barnes & Noble/Nook
Buy the Book On Apple Books
Buy the Book On Kobo
Buy the Audio Book:
Buy the Book On Amazon
Buy the Book On Audible
Author Bio:
Chrys Fey is the author of the Disaster Crimes Series, a unique concept blending romance, crimes, and disasters. Fey also authored Write with Fey: 10 Sparks to Guide You from Idea to Publication. Catch the sparks you need to write, edit, publish, and market your book! She runs the Insecure Writer's Support Group Book Club on Goodreads and is also an editor for Dancing Lemur Press.
Fey realized she wanted to write by watching her mother pursue publication. At the age of twelve, she started her first novel, which flourished into a series she later rewrote at seventeen.
Fey lives in Florida and is always on the lookout for hurricanes. She has four cats and three nephews, both keep her entertained with their antics.
Follow the author on social media:
Learn more about the writer. Visit the Author's Website
Facebook Fan Page
Twitter
Instagram
This site contains affiliate links to products. We may receive a commission for purchases made through these links.