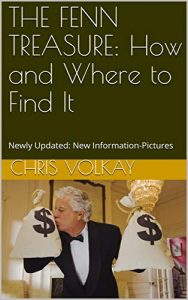 "About How & Where To Find the Forrest Fenn Treasure:
I know where Forrest Fenn buried his treasure. This ebook lays out how I came up with it and where it is. Just to make sure of it I actually went up there and checked it out for myself. For those that know about, every single clues matches, I am more sure than ever that this really is the place. I've brought back a lot of pictures and added them to make it easier. Why don't I go in a grab it. Even though I'm younger than Fenn, the 6 mile round trip just to make it to the creek, almost killed me.If Fenn carried it in there then I'm in worse shape than Fenn. And that gives me no pleasure, I assure you. As it is in a National Park, I am going to look into the possibilities of either chartering a helicopter in or renting a horse to go in on. Or maybe I could team up with some young guy or guys with young legs and young lungs. I don't know, but even now I haven't completely given up on the idea.
Targeted Age Group: 18-65
Written by: Christopher Volkay
Illustrated by:
Buy the ebook:
Buy the Book On Amazon
Author Bio:
Hello warm hearts, glad to see ya,
I've been writing for about 15 years now. Whew. I have been published in many national magazines (Free Inquiry, Skeptical Inquirer, cover story for the Free Thinker in the U.K.) and, many nationally known and recognized websites and blogs like Free Republic (which was at one time the 4th leading conservative website worldwide. (Now the top spots go to people like Drudge, Breitbart, Fox is #1, of course.) Also Canada's best indie publication-Canada Free Press, Angry White Dude and many more. I have had two books published by so-called regular publishers, Above Us Only Sky from Cacothes Press in San Francisco, and I guess about 7 books here with Amazon's Kindle.
Follow the author on social media:
Learn more about the writer. Visit the Author's Website
Facebook Fan Page
This site contains affiliate links to products. We may receive a commission for purchases made through these links.