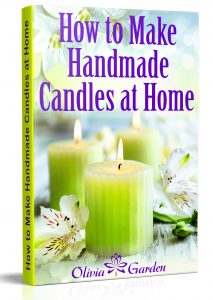 "About How to Make Handmade Candles at Home: Homemade Candles Book with Candles Recipes. Best Ideas About Candle Making and Candle Crafting (Hand Made Candles Recipes with Essential Oils, Scents, Wax and Beewax.):
Discover how to make the most wonderful looking candles at home!
Inside this book you'll discover step by step instructions on making handmade candles. You will amaze your family and friends with professional looking handmade candles – using the secrets, techniques and tips from this book.
You'll be able to make almost any type of candle you can imagine using our homemade candles recipes.
By the end of this book, you will master the art of candle crafting!
Don't waste your time looking for other options and download your copy today!
Targeted Age Group: 15+
Written by: Olivia Garden
Buy the ebook:
Buy the Book On Amazon

Author Bio:
Olivia is a writer who specializes in natural living, essential oils and aromatherapy. She is lucky enough to teach many people how to make homemade soap, handmade candles, lotions, creams and other natural products in her own studio in Boston.
"I suffer from sensitivity to chemicals in skincare and cleaning products. That's why I started experimenting with herbs, spices and essential oils to make gorgeous natural products for myself and my family. Then my hobby turned to a real soap company with more than 10 years' experience.
It's wonderful that now through my books I can share my knowledge and experience with people all over the world. All of you can try healthy, unusual and appealing recipes for natural products. I hope you will enjoy my books as much as I enjoyed producing them."